Tackling Child Sexual Exploitation (CSE)
Northamptonshire Police and Northamptonshire Safeguarding Children Board (NSCB) are running a partnership campaign to raise awareness of Child Sexual Exploitation, how to identify it and how to report it.
If you are worried that a child is or may be at risk of sexual exploitation report it now.
New 24/7 CSE helpline launched for children and young people: Call or text 116 000
A new helpline has been launched to enable children and young people to discuss any concerns relating to CSE for themselves or a friend at any time. The new helpline is open 24 hours, 365 days per year. Find out more.
Recognise the signs of Child Sexual Exploitation:
Parents, carers and professionals coming into contact with children are urged to look out for signs of CSE.
The signs can be very difficult to identify, young people who are being sexually exploited may:
be involved in abusive relationships, intimidated and fearful of certain people or situations;
hang out with groups of older people, or anti-social groups, or with other vulnerable peers;
associate with other young people involved in sexual exploitation;
get involved in gangs, gang fights, gang membership;
have older boyfriends or girlfriends;
spend time at places of concern, such as hotels or known brothels;
not know where they are, because they have been moved around the country; and
go missing from home, care or education.
This is not an exhaustive list and indicators can change over time. For a fuller list see the NSPCC website or see the CSE webpage for parents and carers.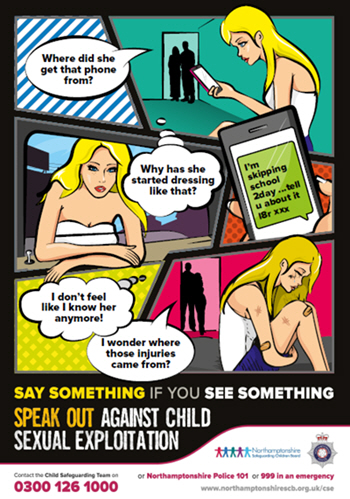 Download the poster above (PDF) to share on a noticeboard in your workplace, school, youth club or community centre.
Emma's Story
What are we doing in Northamptonshire?
Following the Independent Inquiry into Child Sexual Exploitation (CSE) in Rotherham and Ofsted's report, 'The sexual exploitation of children: it couldn't happen here, could it?' CSE has become a national priority.
Northamptonshire Safeguarding Children Board (NSCB) and the agencies responsible for children's safeguarding in Northamptonshire are determined to do all they can to prevent similar failings identified within those reports.
NSCB is ensuring that work to combat CSE and issues of missing children is effective. The NSCB's Child Sexual Exploitation & Missing Children Sub-Group is co-ordinating our work in this area.
NSCB has developed an Action Plan and Strategy to tackle the issues through a multi-agency approach. This sets out how we will assess and reduce risk, prevent harm, challenge and disrupt activities and provide an enhanced, effective service.

About this campaign:
Northamptonshire Police, NSCB and partner agencies have launched a proactive communications campaign aimed at engaging with children who are vulnerable to, or at direct risk of, sexual abuse and exploitation. The partnership CSE campaign has been developed to raise public awareness with specific targeting to hotels, taxi drivers etc.
Three radio commercials are being broadcast as part of this campaign and are available to download here (MP3 files):
NSCB has published a press release to support the campaign.
One of the objectives is to help children to identify abuse they may be suffering and encourage them to report it.
Information for practitioners:
Practitioners and professionals should be aware of NSCB policies and procedures relating to CSE:
In addition, please see the latest toolkit, assessment and definitions webpages:
Last updated: 17 August 2016