Training for Young People
Free e-learning course for young people: 'Think Safe, Stay Safe, Be Safe'
Are you aged 11-18 years?
Are you working as a babysitter, peer mentor, or a voluntary worker in youth group with children or something similar?
If you've answered 'yes' to any of the above, then this FREE e-learning course is for you.
This course will help you understand what is important about child abuse and neglect and what you should do if you are worried about a child.
After completing this course, you should be able to:
Understand the various types of child abuse or neglect
Identify the signs and what to look for
Know how to ask questions if you suspect a young person is being abused
Know what steps to take if you suspect abuse is happening
Know what to do if a a child or young person tells you about abuse
How long will it take to complete?
The course only takes about an hour to complete, although people will learn at different speeds so you can save your progress and come back to it at another time.

Is there a test?
Yes, there's a short quiz at the end, to make sure that you've understood the learning.

Will I get a certificate?
Yes, you can print out your own certificate and include the name of the course in your CV.

How do I start?
To take the course all you need to do is register for the course online and you will be able to begin the course straight away.Register now on the E-Academy website.
When you register, you will need to select the option for 'Young person' from a dropdown list. Then you'll see a list of training courses to choose from. The course for you is called 'Think Safe, Be Safe, Stay Safe and you'll find it by scrolling to the bottom of the page where you'll see this image: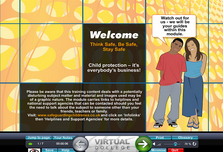 .
Last updated: 04 August 2015