New campaign to raise awareness of Child Sexual Exploitation in Northamptonshire
The second phase of a major awareness campaign to tackle Child Sexual Exploitation (CSE) in Northamptonshire has been launched.
Striking new posters will be displayed across the county, and a new radio advert launched that will feature prominently on Heart FM and music streaming sites like Spotify.
Detective Inspector Richard Tompkins, who leads the multi-agency team RISE (Reducing Incidents of Sexual Exploitation), gave an update on the current picture relating to the team's activity:

RISE is currently supporting 47 children between 11 and 17 years old.
Referrals have increased 50% in the last four months.
Police officers are currently managing over 40 investigations.
Arrests significantly increased since the first three-month media campaign was launched in March this year.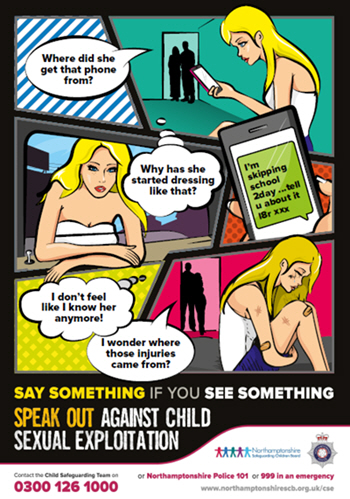 Chief Inspector Jen Helm, leader of the force's Protecting Vulnerable People team said:
"We have significantly improved the way we tackle CSE in this county which was made clear in the recent College of Police Review in July. Protocols are now in place for information sharing across Health, Police, and Children's services, which is crucial to better safeguard our children. There is more to be done though - understanding CSE is about changing attitudes and educating the public to recognise the signs that somebody is at risk. That's what this campaign is all about - we need our communities to be our eyes and ears and to let us know if they spot the signs of this terrible crime."

Keith Makin, Chairman of the Northamptonshire Safeguarding Children's Board, said: "Child sexual exploitation is a major child protection issue across the UK. It often goes unnoticed, hidden from view. Vulnerable young girls and boys are groomed and then abused, leaving them traumatised and scarred for life. Any young person regardless of their age, gender, ethnicity and sexuality can be at risk of being sexually exploited. Tackling CSE is the main priority of Northamptonshire Children's Safeguarding Board and more resources and investment has been made by partners across the county."
Everyone can help to raise awareness and stop child sexual exploitation - Download and print a copy of the poster for your noticeboard at work, school, youth club or community hall (PDF - as illustrated above).
Last updated: 01 December 2015